Ask The Tax Expert
Enrolled Agents and the IRS
Tax Advantage of Running Home Business
IRS Circular 230 Disclaimer Policy
Glossary of Terms and Definitions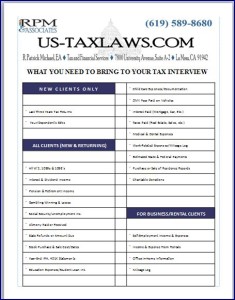 TAX INTERVIEW CHECKLIST – AT A GLANCE
How We Will Work With You:
If you are a new client, and have made your appointment, please print out this tax interview checklist to make sure you bring all the information with you.  If you right-click on the image to your left, you have the option of opening the document in a separate window to print while you continue reading this page.  Once greeted by our staff, one of our tax professionals will begin your tax interview.  We will collect your tax papers and information and ask detailed questions to determine deductions you may be missing.
We ask you to bring past tax returns so we can ensure that they were properly prepared and that you received all the deductions to which you were entitled.
You will receive a client portfolio that contains all documents filed on your behalf.  Our goal is to make your tax filing experience as stress-free as possible.